Your child won't keep his or her first teeth forever, but that doesn't mean those tiny pearly whites don't need conscientious care. Maintaining your child's dental health now will provide health benefits well into adulthood, as primary (baby) teeth serve some extremely important functions.
For one thing, primary teeth serve as guides for the eruption of permanent (adult) teeth, holding the space into which these new teeth will erupt. The crowns (tops) of the permanent teeth actually push against the roots of the baby teeth, causing them to resorb, or melt away. In this way, the adult teeth can take their proper place.
What's more, your child's primary teeth will be there for most of childhood, helping your child to bite, chew and speak. For the first six or so years, he or she will be relying on primary teeth exclusively to perform these important functions. Until around age 12, your child will have a mix of primary and permanent teeth. You will want to make sure those teeth stay healthy and are lost naturally — when it's time.
Your Child's First Teeth
Your child's 20 baby teeth will begin to appear usually between six and nine months, though in some cases it may start as early as three months or as late as twelve months. The two lower front teeth tend to erupt first, followed by the two upper ones, these teeth are called the central incisors. Then the neighboring teeth called lateral incisors will erupt too. The first molars come in next, followed by the canines (eyeteeth). And finally, the last teeth to erupt are the two-year molars. Sometimes your baby can experience teething discomfort during this process. If so, there are courses of action to help make your child more comfortable.
Your infant's gums should be gently wiped after each feeding with a water-soaked gauze pad or damp washcloth. As soon as the first tooth erupts, establish a daily brushing routine with a small, soft-bristled toothbrush and no more than a thin smear of fluoridated toothpaste. Your child may need your help with this important task until about the age of 6.
Your Child's First Dental Appointment
The American Academy of Pediatric Dentistry recommends that your child see a dentist by his/her first birthday, or as early as the first tooth erupts. Though this may sound early, learning proper pediatric oral hygiene techniques, checking for cavities, and watching for developmental problems is extremely important.
There are a number of forms of tooth decay that can affect babies and small children. Early Childhood Caries (tooth decay) can develop rapidly, progressing from the hard, outer enamel layer of a tooth into the softer, inner dentin in six months or less.
Most of all, it's important for your child to have a positive experience at the dental office as he/she will be a regular visitor for years to come.
Pediatric Dental Treatments
There are a variety of dental treatments offered to prevent tooth decay in children, or to save or repair teeth when necessary. They include:
Topical Fluoride — Fluoride incorporates into the enamel of teeth, making it harder and more resistant to decay. Although there is a small amount of fluoride in toothpastes and in some drinking water supplies, a higher concentration can be applied professionally to your child's teeth for maximum protection.
Dental Sealants — A plastic coating can be applied at the dental office to prevent cavities by sealing the little grooves on the chewing surfaces of back teeth known as "pits and fissures." These little crevices become the perfect environments for decay-causing bacteria. Immature tooth enamel is more permeable and therefore less resistant to tooth decay. Dental sealants are easy to apply and provide years of protection (Watch Dental Sealant Video).
Root Canal Treatment — Perhaps you have had a root canal treatment yourself, to save an injured or severely decayed tooth. Well, sometimes children need root canals, too. In children these are called pulpotomies or pulpectomies. As mentioned above, baby teeth are important guides to the permanent teeth that are already forming beneath your child's gums. Therefore, saving them from premature loss can help prevent a malocclusion ("mal" – bad; "occlusion" – bite) that requires orthodontic treatment.
Bonding — Chips and minor fractures to front teeth — common childhood occurrences — can be repaired with tooth-colored bonding materials. These lifelike resins made of plastic and glass can be used on baby teeth as well as permanent teeth and last until the youngster has completed facial growth (Watch Bonding Video).
Orthodontic Concerns
By around age 7, most malocclusions have become evident. Interceptive orthodontic treatment around this time can help direct proper tooth positioning and/or jaw growth, eliminating or simplifying the need for later treatment. There are many orthodontic problems that can be detected early and are examples of why a trained professional should evaluate your child during his/her growth and development.
Sports & Your Child's Teeth
If your child is active in sports, a custom-made mouthguard is a highly recommended safeguard. According to the American Dental Association, an athlete is 60 times more likely to suffer dental harm when not wearing one of these protective devices. A custom mouthguard is made specifically for your child using a model of his or her teeth. This will offer greater protection than an off-the-shelf model. It's an investment that pays off highly in the form of reduced pain, suffering — and dental expenses down the road!
Related Articles
Before prescribing any medications — even lifesaving ones, such as those used to reduce blood pressure or prevent epileptic seizures — your health care professionals carefully weigh the benefits a drug offers against the possible risks of taking it, including its potential side effects. In most cases, the side effects are relatively slight: for example, drowsiness, an upset stomach, or minor aches. But in some individuals, particular drugs may produce side effects that are more troublesome.
This is sometimes the case with a class of drugs called calcium channel blockers (CCBs), which are commonly used to treat high blood pressure (hypertension) and certain other heart conditions. Some people who take these medications experience a condition called gingival hyperplasia, or an overgrowth of gum tissue. This effect has also been seen in some epileptics who take an anti-seizure medication called phenytoin.
Possible Side Effects
CCBs work by dilating (widening) the blood vessels, which makes it easier for the heart to pump blood. But in a small percentage of people, they also cause changes in the gums. Gum tissue may become thick and lumpy, and it may sometimes extend abnormally and start to cover the teeth. This change in appearance can cause social embarrassment, as well as discomfort and difficulty in chewing.
The overgrowth of gum tissue also makes it difficult or impossible to clean the spaces between teeth. This can cause a rapid deterioration in oral hygiene that may lead to full-blown gum disease if not treated promptly. And since poor oral hygiene is itself a contributing factor in gum overgrowth, the condition can easily spiral out of control.
In addition, some CCBs also reduce saliva flow. This may not only cause the mouth to feel dry, but may also severely reduce saliva's protective effects on the teeth and gums.
What To Do About Gum Overgrowth
It's always a good idea to tell your health care providers about any side effects you may be experiencing as soon as you notice them. However, even though gum tissue overgrowth may be a worrisome issue, it doesn't mean you should stop taking your blood pressure medication! There are several options for controlling this condition, which should be discussed with all members of your medical team.
With your doctor's consent, it may be possible for you to change your dosage or switch to a different blood pressure medication that produces fewer side effects. It can take a few months for your gums to return to normal after the change, while you are maintaining good oral hygiene at home. But even if it's not possible for you to change your medication, there are a number of in-office treatments that can be used to help alleviate the problem.
Non-surgical treatments like scaling and root planing (a type of deep cleaning) are sometimes the first step to controlling gum overgrowth. These relatively minor procedures can dramatically improve your overall oral hygiene. If necessary, they may be followed by surgical treatments to remove overgrown tissue and eliminate periodontitis — a serious condition which, if left untreated, could result in tooth loss.
In addition to regular dental cleanings, you will need to be extra vigilant at home: proper brushing technique and the use of interdental cleaners (such as floss) are needed to clean the spaces between teeth is a must. Your progress will be monitored at follow-up dental visits as needed.
While gum tissue overgrowth may seem a daunting problem, experience has shown that it can be successfully controlled by initial periodontal therapy, good at-home care, and frequent follow-up visits. Meanwhile, you should continue to follow all of your doctors' recommendations for maintaining a healthy blood pressure.
Related Articles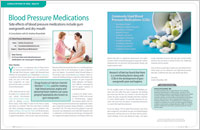 Blood Pressure Medications An important class of drugs used for treating high blood pressure can sometimes cause an overgrowth of gum tissue. This in turn can affect your appearance, and your ability to clean your teeth. Your dentist can help you get the situation under control... Read Article